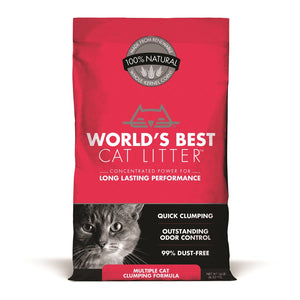 TIRED OF SEARCHING FOR THE BEST LITTER FOR YOUR CAT?
SWITCH TO CONCENTRATED POWER FOR A CLEANER LITTER BOX

More and more cat parents are realizing that huge boxes of litter aren't delivering big savings or big performance. That's why World's Best Cat Litter™ offers a family of high-performance natural cat litters that harness the concentrated power of corn to give you a cleaner litter box with less hassle and less litter.

MULTI-CAT CLUMPING FORMULA

With an added all-natural plant material for enhanced odor control, this formula is ideal for home with 2 or more cats.