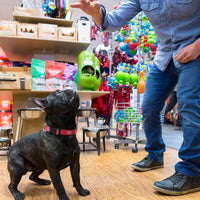 Friendly & Helpful
Little Bear is an independently owned, ingredient-driven pet supply store, in idyllic Westmount (adjacent to Downtown Montreal), in the beautiful province of Quebec and has been satisfying customers all over the city, and beyond since 1994.
Chuck Altman, began working at Little Bear, part-time in 1996; he loved the shop and it's neighbourhood feel so much, that he bought the store after (finally) graduating from Concordia in 2002. Since then, Chuck & Little Bear have grown as fast as a well-fed litter of puppies, and quickly became one of the most trusted and well-known places to shop for your dog, for your cat, & for you.
High Quality Pet Products
Little Bear is  a different breed of  pet supply store, focused on providing the widest possible selection of high-quality and premium pet products so that every customer can find something that's right for their pets. This is no big box store; customers and pets roam the aisles, enjoying the friendly atmosphere and knowledgeable customer service. Raw, Freeze-Dried, Dehydrated, Canned, semi-moist or Kibble, Little Bear has the diet that's right for your pet, your budget, and your lifestyle.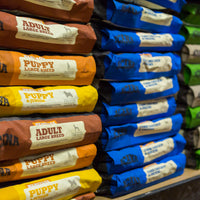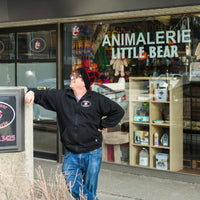 Friend, Owner, Operator
Mr LittleBear to many, Chuck Altman is an animal lover, devoted family man, owner operator, & bon-vivant. Life is short, do something you love! The atmosphere is special, more local barber shop than retail store.
If you've ever walked into Little Bear over the years, you can feel it, especially when you are greeted by Chuck's huge smile and friendly attitude. Chuck loves what he does, and it shows. What other business owner gets down on the floor to; play, love, tease and treat the dogs that come and visit the shop daily?
Not only is Little Bear full of amazing products for your pets, the staff are second to none; friendly and knowledgeable! No question is too silly and no puppy is too stinky for them! What a wonderful atmosphere, it's no wonder many customers come back and visit the store even after their pets have passed or they've moved away…
Little Bear is also very involved in community, sponsoring a local softball team, donating to shelters, and raising money for pet, and non-pet related charities.
Store hours
Monday - Friday — 10:00am - 6:00pm Saturday - 10:00am - 5:00pm
Sunday — 11:00am - 5:00pm