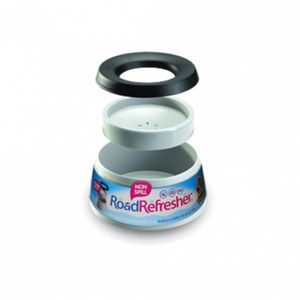 The Road Refresher is the next generation of the spill-proof dog bowl for home and travel. Unlike other popular style bowls such as stainless steel metal dog bowls, weighted bowls, dog fountain water bowls, and extra heavy dog water bowls, the Road Refresher is lightweight yet durable, steady, and efficient with its purposeful design, easy to fill, clean and take on the go as needed. The Extra-Large bowl neatly holds up to 47 liquid ounces, while the Small bowl holds just over 20 liquid ounces. This provides plenty of fresh clean water for large and medium dogs, messy drinkers, excited puppies and even curious cats while eliminating spills caused by movement of both pet and/or surrounding as well as overzealous drinking. The Road Refresher dog waterer bowl supplies a continual amount of water up through the floating plate for your pet to access easily, yet immediately restricts the flow whenever there is a surge of water from cornering, braking, kicking and so on.
Rather than gulping water and air, your pet licks up water as needed and keeps water drips minimal to facial hair, beard, jowls and fur as submerging their facial area is not needed to satisfy thirst. Making this the perfect bowl for dogs with long ears and snouts!
Included are optional velcro feet fasteners, intended for high movement adventures with your best friend such as travel, RV life, boating, camping and outdoor activities. This provides even more no-spill, no tip security, making this slow water feeder for dogs a must-have and the best outdoor dog water bowl. Keep your pet's water in the bowl so they can stay happy and hydrated with fresh clean water.