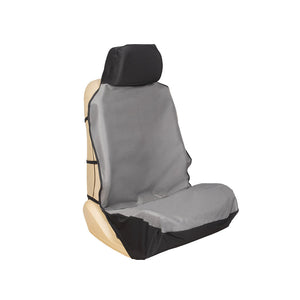 Spend time enjoying adventures with your best friend, not time cleaning your car seats. The PetSafe Happy Ride Bucket Seat Cover helps keep your seats free from dog hair and wet, muddy paws.
This waterproof bucket seat cover fits the back seat of most cars, trucks and SUVs, measuring 52 inches long by 22 inches wide.
The cover is easy to use; just secure the head straps and use the elastic panels to keep the cover snugly fit to your car seat.
If your seat cover is ready to be cleaned at the end of a fun-filled day with your best friend, simply toss the cover into your washing machine.