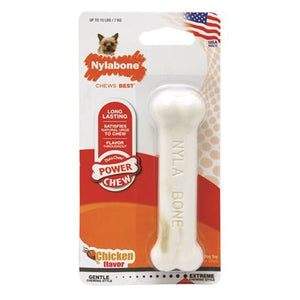 • Discourages Destructive Chewing
• Helps Clean Teeth
• Fights Boredom
• Provides Long-Lasting Enjoyment
SOMETHING TO CHEW ON!
DIFFERENT DOGS HAVE DIFFERENT CHEWING STYLES AND STRENGTHS, EVEN WITHINTHE SAME BREED. BE SURE TO CHOOSE THE CORRECT CHEW SIZE AND TYPE FORYOUR DOG.
• NON-EDIBLE: Bristles raised during chewing help clean teeth andcontrol plaque & tartar. Small shavings (no larger than a grain ofrice) should pass through.
• DURABLE NYLON ENDS – Long lasting for powerful, determined chewers.
• Dogs should not bite off large pieces – replace when ends have worn down.
• Always supervise the use of chews and toys.
Ingredients:
Nylon and chicken flavor.