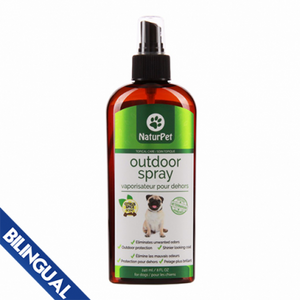 The best way to keep your dog smelling fresh!
Our NaturPet® Outdoor Spray is a pleasant smelling mixture of essential oils that contains Neem, Lemongrass, eucalyptus, cedarwood, and clove. Easy to use on your dog, just spray it in the coat and on paws after a hike or a swim. This product will eliminate odors from the coat and from paws. It even works great as a deodorizer after washing your dog to help keep them looking and feeling fresh!
USAGE INSTRUCTIONS:
Spray dog before going outside or after swimming to prevent unwanted odors. Best used before hikes or densely vegetated walks. Shake well before use.
CAUTIONS/WARNINGS:
For dog use only. Not suitable for cats. Avoid contact with eyes.