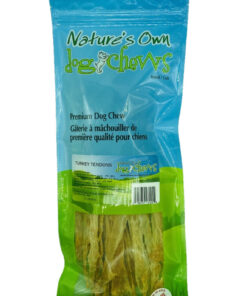 Nature's Own turkey tendons
are proudly from the USA . These are a hit for dog lovers looking for a domestic
turkey tendon
chew.  This is pure turkey tendon that is slow baked to lock in all the natural flavours dogs love. 
No glycerin or any other additives/preservatives are used.
Many pet owners have been looking for domestic poultry products that are natural.  We have been hearing these concerns for the past couple of years and we have been listening. There are many unanswered questions on imported poultry from overseas leaving many retailers and consumers confused on the quality, and more importantly, the safety of this treat. We carefully selected a human grade facility in the USA that is federally inspected by USDA and complies with all CFIA and USDA/FDA guidelines.